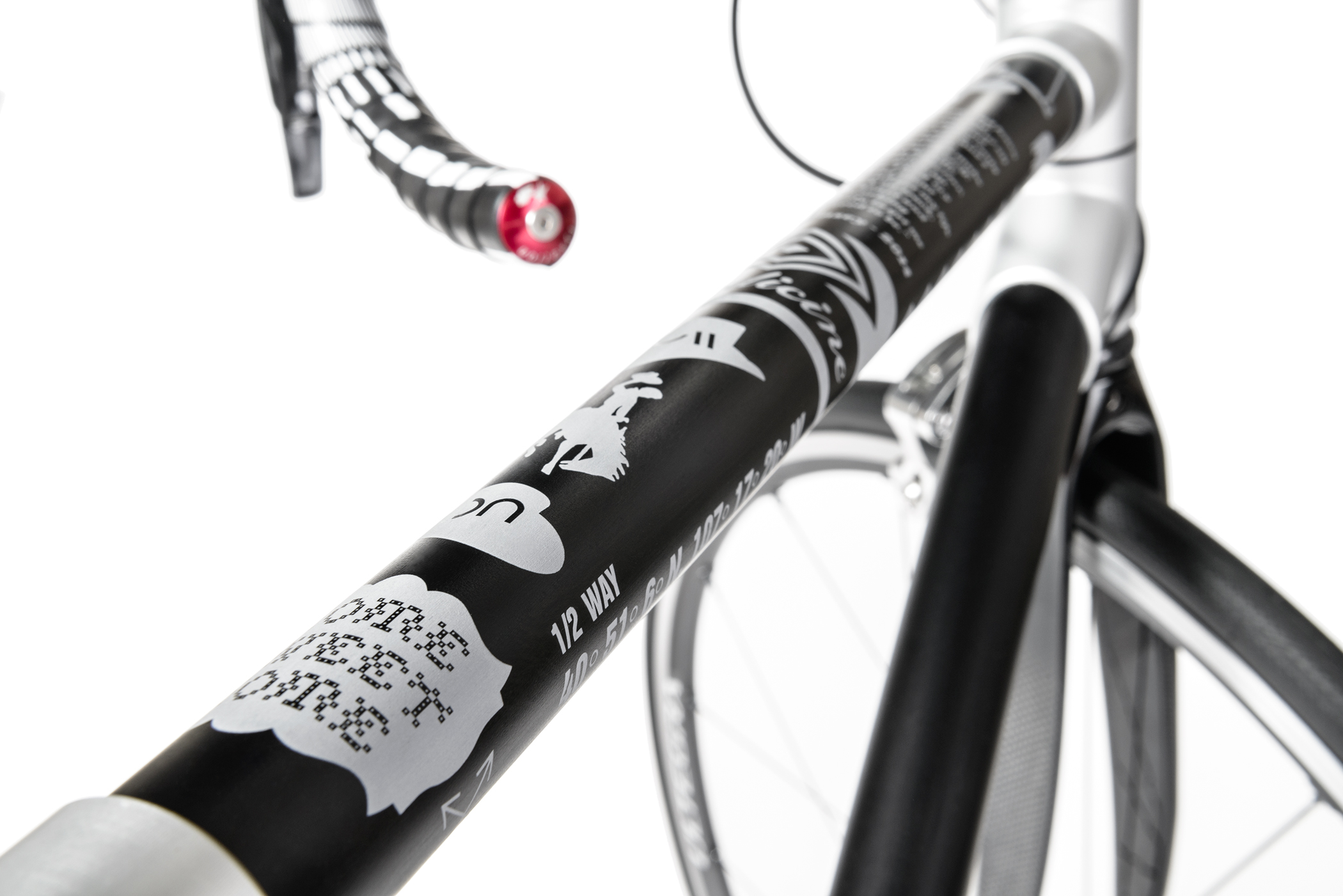 Overview
CIRCA offers durable and customizable graphics that are permanently laser-etched into the anodized finish of your frame. Want frame graphics that won't ever flake off? Want to tell a personal story with your bike? Our laser graphics options let you customize your frame to tell your cycling story, leave your mark, get inspired or express your brand. We're currently able to add custom laser etched art into the top tube and seat tube of your frame.
How it works: Art Development
Client-Created Art: If you're interested in providing your own art for your CIRCA, here's an example of what a file looks like. Art in black will be etched in white. Contact us for templates and more detailed guidance.
CIRCA Graphic Design Services: We're happy to provide graphic design services to help you achieve a design that suits your needs. As Of 2020, Our graphic design fees are $75/hour. If you'd like more information about adding laser graphics to your frame or bike package, please contact us.

Icon POX
The CIRCA Icon PDX is a laser-etched celebration Of all things Portland. Leveraging some Of the graphic genius available in Our beloved Stumptown, the Icon PDX tells a distinctly Portland story full Of caffeine, yeti's, bridges and beards.
Medicine
Medicine is a full custom geometry, full custom graphics bike that was built to honor a client's family, heritage and a lost loved one. For this incredibly special and emotional project, we developed a graphic language that incorporates Navajo symbology (note: client is Navajo) to reference a journey, healing and family.
CONTACT.
Contact us to discuss your build and fit requirements. If you're in Portland, we can arrange a personal visit to our downtown studio.
CUSTOMIZE.
We'll work together to refine the details of your build, from fit to component selection, colors, finishes and laser etching
BUILD.
Your bike or frame will be built to order in Portland, Oregon and can either be picked up in-person at our Portland, Oregon studio or we'll ship it to you.
We're here to help!
If you have any questions or are ready to get yourself on a CIRCA, please submit a contact form.